ISA Excursion's for International Delegates
Monday 5 May 2014
3.00pm - 5.00pm
Note: Registrations for these excursions are now closed.
On Monday 5 May between 3.00pm and 5.00pm there are three walking excursion's* of Brisbane offered for International delegates.
You will leave the Brisbane Convention and Exhibition Centre with a guide and walk into the city and enjoy the experience you have chosen.
Please note: these are WALKING excursion's and you will be on your feet for over 2 hours. Please ensure you wear appropriate footwear and comfortable clothing. You may also want to bring a bottle of water with you.
You MUST register for an excursion – you cannot join on the day as all arrangements will have been made.
Please choose the excursion you wish to attend via the online Registration.
*Disclaimer, these excursion's are weather permitting and may be cancelled if necessary.
City Experience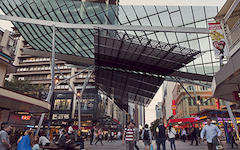 From Queensland's largest selection of fashion and award-winning food
and drink, to an extensive free entertainment program, the city
offers a discovery in every direction.
There are more than 1000 stores to choose from, including the state's largest collection of flagship stores and unique boutiques, making Brisbane City, Queensland's premier shopping destination.
Plus discover the largest collection of Good Food Guide-awarded restaurants, cafes and bars in Queensland - there are hundreds of options to whet your palette. And you won't find it hard amusing yourself – there's The City Sounds program, over 1000 events per year, cinemas, a casino, parks, galleries and many nightlife options.
Public Art Experience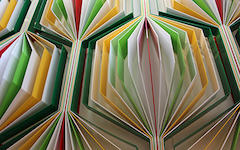 Brisbane is a city that links people, places and creativity. Did you know that it is one of the world's great public art cities? Brisbane has some great artwork that enhances and enlivens public spaces.
The streets and laneways of the city centre, gardens and parklands
are a treasure-trove for artwork - from traditional and historic sculptures to more contemporary pieces. Explore a mix of historic, heritage-listed and contemporary artworks and monuments, each contributing to Brisbane's story.
Major Heritage Buildings Experience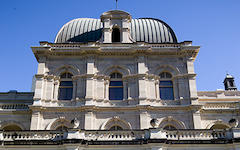 Brisbane possesses a rich architectural heritage that traces its development from a penal colony to a vibrant, sub-tropical capital.
Heritage buildings also provide important insights regarding some
of the interesting personalities hosted within – if only the walls could talk.
Did you know that Brisbane City Hall is regarded as one of the top 10 heritage-listed buildings in Australia?
Here's just a taste of the impressive array of heritage buildings located across Brisbane, Australia's new world city - Brisbane City Hall, Parliament House, Old Government House, Treasury Building, St Stephen's Cathedral, St John's Cathedral, Customs House and Brisbane Arcade.